Hamptonville, North Carolina Better Goldens = Better Families
Cute & Cuddly Companions
AKC Golden Retrievers & CKC Goldendoodles
Available Puppies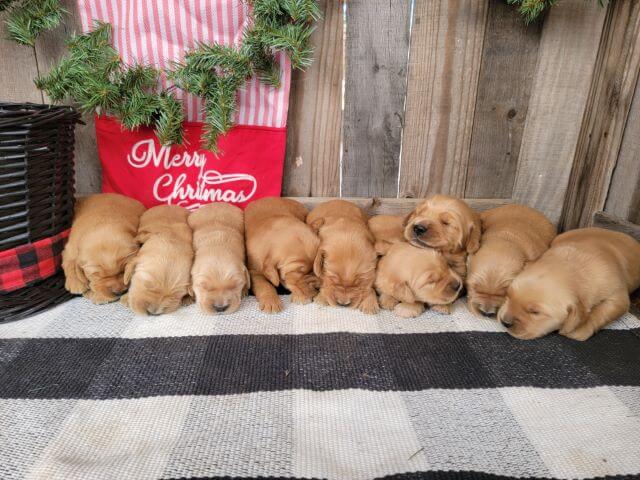 New Litter of Golden Retrievers born 10-29-23. Available for adoption on December 10th.
We are happy to be able to say all our parent dogs have been tested for and cleared over 200 breed specific genetic issues. Visit Embarkvet.com for more info.
Our goal as a family is to provide you and your family with as healthy and happy a puppy as possible. To ensure this we follow a strict vaccination and de-worming schedule, plus each puppy receives physical exam at a certified DVM's practice. This exam, backed by our one year health guarantee, provides you with the confidence of quality and the assurance of a healthy puppy you deserve.
We are all animal lovers and have several horses and ponies but, the puppies are definitely everyone's favorite pet as they are so cute and cuddly you can't help but fall in love with each and everyone of them. We play with our puppies regularly and they enjoy romping around our lawn and across the vast, wide open country side. They are well socialized with people of all ages and other pets.
What sets us apart from other breeders is our unique purchase plan. Most breeders require a deposit before you can see the puppies. You pay for the puppy. You meet the puppy. You decide whether or not you like the puppy.
At Cute & Cuddly Companions you and your family can come out and socialize with the litter; no deposit required. Not sure if the kids are ready? What to make sure your older pet approves? Come and let's find out. Choose the puppy that wins your heart and complements you; then, purchase with the confidence of the right fit you deserve. The right puppy + the right home = mission accomplished! Call to schedule your free visit today!
Choose Your Puppy
Choose a puppy online, or call to schedule a visit.
Reserve Your Puppy
Complete puppy application, or place a deposit online.
Take Your Puppy Home
Call to schedule a pickup date and come get your new puppy.